We did it! Tech City Teams took home the title of 'Remote Team of the Year' at the UK Company Culture Awards.
We're immensely proud and grateful for this recognition and the kind words from the judges:
"We were thoroughly impressed by this outstanding team, who have demonstrated impressive growth and implemented remarkable initiatives to promote and support remote working. They tackled challenges with great determination and turned them into benefits by expanding their pool of talent, providing resources, and supporting their team in every step of the journey. They truly catered to all, adapting to the different ways of working."
Tech City Teams were represented by Rebecca, Ben, Leslie and Catherine on the night following our shortlist for the category in March. It was hugely inspiring to be amongst businesses and individuals who share our vision and commitment to fostering positive transformations in both corporate and workforce culture.
The humans behind the tech
As workplace culture evolves, we've been proactive in transitioning from hybrid working to becoming a remote-first organisation. We carefully considered the impact of this move on the business and our team, recognising that maintaining a strong company culture in a remote working environment requires an intentional and creative approach.
In response, we've implemented a mix of strategies, channels, and activities to connect, motivate and engage our talented team of onshore and nearshore individuals. Here are a few examples:
Celebrating our people:
We uphold a culture of continuous learning, inviting team members to share updates or new hobbies in our monthly lunchtime Show & Tell meetings.
We offer sponsorship opportunities for those interested in pursuing further qualifications or certifications.
We keep everyone updated with a monthly team newsletter featuring company news, team achievements, and personal celebrations.
Upholding our company values:
We provide true flexibility, including part-time hours, school run accommodations, and home office equipment where needed.
We offer memberships to co-working spaces for those who get a boost from a change of scene.
We're dedicated to making Tech City Teams a welcoming, diverse and inclusive environment for all, focusing on mutual support and feedback to ensure the business grows and adapts according to changing needs.
We offer a shared annual bonus based on the company's performance, not individual KPIs. As a small team, we all do our part in making Tech City Teams a success.
Staying connected:
We make full use of Slack for daily communication, be that aligning on a project, sharing memes or personal anecdotes, or celebrating personal bests in the gym.
We host paid-for quarterly team meetups where our team can relax, geek out over shared interests, and most importantly, have some fun. Our annual Christmas meetup is a particularly big deal amongst our TCTeamers!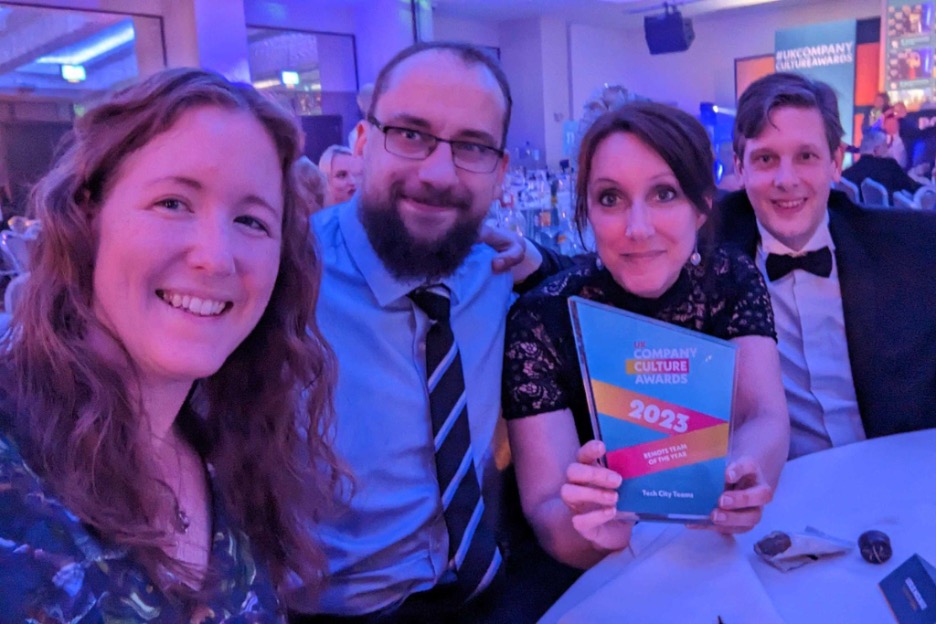 Winning 'Remote Team of the Year' is just the beginning for Tech City Teams
We're massively fortunate to be surrounded by a team of talented, caring and conscientious people who are as committed to making Tech City Teams a great place to work as we are.
Together, we'll continue to raise the standards of corporate team culture and be an example to other businesses that remote working shouldn't be a barrier to creating a happy, motivated and unified team.
The sky's the limit for this humble tech consultancy!
Keep in touch!
Stay up to date with us on LinkedIn to see our commitment to culture and remote working in action.