Driftime® have been recognised as a UK Company Culture Awards 2023 finalist for The Best Small Agency to Work For! 🎉
Good company culture is more than flexible working and 1-2-1 check-ins; it's a call for a vital reimagining of what a healthy and happy team can look like. From finding our feet as a fledgling business six years ago, to being recognised as a finalist for The Best Small Agency to Work For, we've developed our offerings to support our growing team, exploring what they not only need and deserve, but what will bring them joy beyond the (flexible!) working week.
As a Digital Design & Impact Studio, we approach the complex challenges of today on both the micro and the macro, giving the people-driven plans within our business the same level of importance as our company-wide planet-led projects. Be it volunteering at a therapy farm, or tackling the climate crisis, our work is built up from this same kind of meaningful collaboration between colleagues, and has a shared impact across fields and sectors. Our mission to design this impact-driven digital future is powered by our very own Drifteam, a growing workforce of knowledgeable, talented, and like-minded people that share our ambitions, and champion our vision.
"Applying to the UK Company Culture Awards was a fantastic opportunity for reflection and celebration. By bringing together our growing team to give feedback on our offerings and company culture, we're now in a better place to further improve our workplace and recognise our successes, continuing to shape a purpose-led future for both people and planet."
As a B Corp, we advocate for an authentically people and planet focused business, uplifting our team as we would friends or family, and creating a culture that nurtures our professional pursuits, as well as respecting our personal spaces. By acknowledging their connection instead of forcing home and work apart, we can recognise how a healthy workplace can and should support a happy life, making space for the team to explore their interests, experiment with their skills, and take time off to reset.
"Being shortlisted for the Best Small Agency to Work For category shines a light on what we see as central to workplace happiness – a balanced, fulfilling, and fair environment that makes space for honest feedback, kindness, and frank but positive conversations."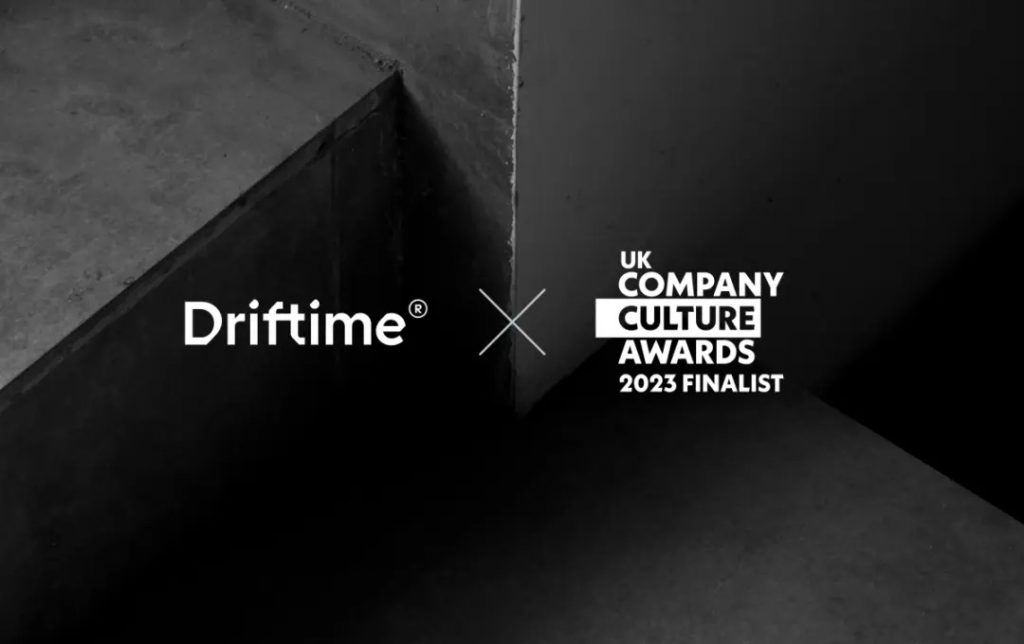 We like to think of our company "perks" as a series of "offerings" instead of "benefits" – we believe every team member regardless of industry or income should be entitled to fair and joyful additions to how they spend their time at work. Many of our offerings are simply a means of levelling the playing field, with a team-wide £1k cost of living bonus in December last year helping to alleviate some of the external pressures and stressors that can cast shadows over our day-to-day.
Curious about what we offer? We've pulled together a brief few favourites below!
⏳ Four is the new five. We place a value on the correlation between minimal stress, and meaningful work. The Driftime working week has been shaped by this belief, now operating on 34 hours, falling across a flexible four day week.
📆 Why limit a good time? We encourage our team to take time off, offering unlimited paid holiday to give us all an opportunity to travel slowly, rest consciously, and explore abundantly.
👯 Remote, but together. From Brighton to Brazil, our team is far-flung. We remedy our distance with a twice-yearly all-paid getaway to spend time together and reconnect in person in a non-work setting.
Being a finalist for the Best Small Agency to Work For category is a credit to both our founders and our Drifteam, a small but mighty team creating good for people and planet. Explore more about Driftime here, and take a peek at our 2022 Impact Report!