People sit at the heart of Assembly and we're incredibly proud of our finalist recognition for Best Culture Transformation Initiative at this year's UK Company Culture Awards! The last few years have changed the ways we all work, and our People and Impact teams continue to go above and beyond in their initiatives to make Assembly an amazing place to work.
We're always looking beyond basic initiatives and striving to have a positive impact on our people and the world around us. Our People team continues to challenge the status quo by reviewing ways of working and constantly improving this based on productive feedback. They are a strong pillar of support to the workforce globally.
Wellbeing & Growth at Assembly
"It's no secret that there's been an increase in stress, anxiety and burnout globally during the pandemic, which is now at the forefront of our minds as we navigate our way out of the last two years. We don't shy away from discussing this and are always looking at ways to alleviate stress for our people." – Lucy Moat, People Partner.
Initiatives at Assembly include weekly virtual HIIT & Pilates classes, offering more flexible working hours and additional Sanctus (our Mental Health Partner) coaching sessions. Adopting a more flexible way of working gives the team the freedom to work in the best way possible for them, while providing them with the tools to support their mental health. We don't believe in putting people in a box with legacy ways of working and we're proud of the moves we're taking.
We're fostering an employee-first environment by streamlining the handling and processing of employee data and ensuring there's a better overview of employee performance appraisals. Our people growing within their roles is one of our top priorities and with that we lead employee development initiatives throughout the year, including mentoring sessions.
Creating a meaningful compensation and benefits package has been important for us – and we're proud to say that this includes enhanced maternity and paternity leave policies. We offer full pay for the first 30 weeks of maternity leave, followed by 14 weeks of reduced pay at 35% of weekly earnings, with the remaining 8 weeks of maternity leave to be unpaid. New dads are entitled to six weeks' full paid paternity leave (to be used at any point throughout the year). We know that encouraging and supporting a work life balance helps everyone across the business in a meaningful way. Recently, our Global Business Director Michael Hawtin was able to take his enhanced paternity leave after welcoming his third child to the world.
"I think that Assembly has more than outdone itself by fostering a family friendly environment and it allowed me to live the life that I needed to live for that period of time. I was able to bond with my wife and newborn son and I cherish those 6 weeks." – Michael Hawtin, Global Business Director.
We're consistently working on policies and initiatives for everyone, and the recognition from the UK Company Culture Awards reinforces the work our People team are doing.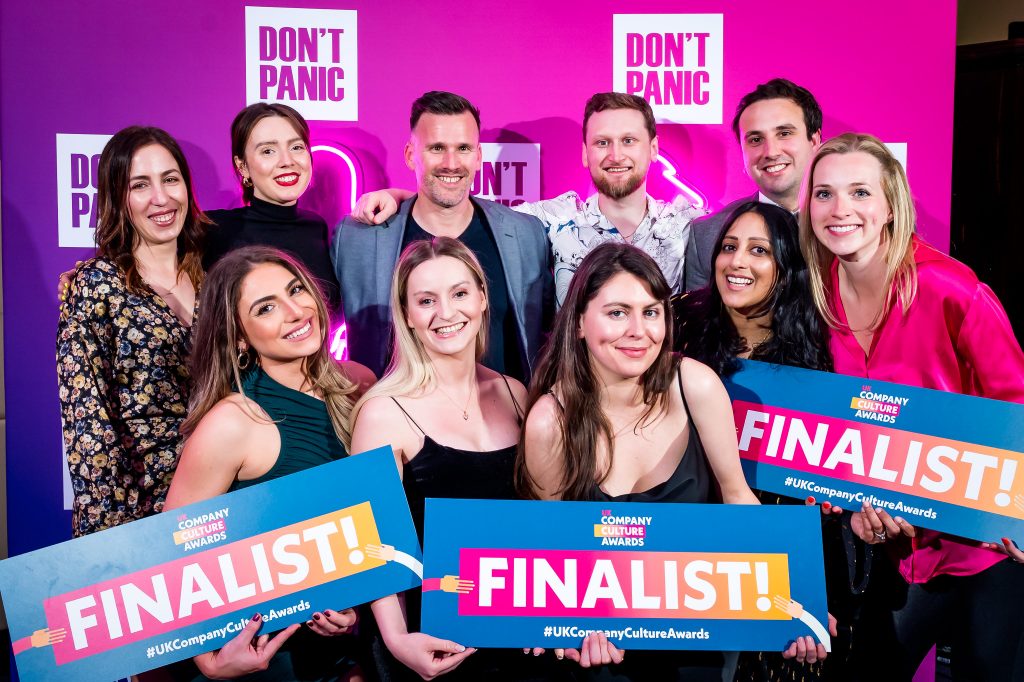 Our Purpose Pillar 
Impact makes up a crucial part of our Purpose Pillar, alongside Diversity, Equity, Inclusion and Belonging (DEI&B) and People. And we've worked on several internal initiatives alongside our Purpose Pillar collaborators in the last year to provide learning opportunities and mark awareness days and global events.
In the last year, we've achieved our goal of hitting 1000 moves forward, our initiative to find 1000 ways in conjunction with our partners to drive Impact at Assembly forward. We're incredibly proud that our MENA team supported 100 meals to families across 20 countries during the holy month of Ramadan.
In addition to this, during the COVID-19 crisis of 2021 in India, which saw thousands of people affected by the crisis, we put together a 24-hour fundraiser in conjunction with our purpose pillar to raise funds for the International Association For Human Values. We were humbled by our ability to raise a whopping £24,916, which was 207% more than our initial target of £12,000. This amazing result reinforces the value of Impact at Assembly as an initiative. We also hold immense gratitude that our network has understood and supported the vision of our global goal and were able to make this possible in such a short space of time. Go Assembly!
"As a forward-thinking business in an industry as dynamic and as influential as ours, we believe that we have a responsibility to use our position to affect meaningful change. As more and more companies strive for a balance of purpose and profit, we are likewise committed to being an active part of the solution" – Sophia Parsons, Global Partnerships and Comms Lead, Impact.
Our Impact team continues to take leaps and bounds for the betterment of the world around us, you can read how in our Impact report here.
We're a modern media agency informed by our values and driven to keep it real and leave the world better than we found it – with both our Impact and People teams' guidance and continued moves forward, we couldn't be prouder of our finalist recognition at the UK Culture Awards.
Check us out here for more of what we get up to. 
Follow Along!:
Twitter
Instagram
LinkedIn