We're eduMe, and we're thrilled to be shortlisted for Best Working Environment and Best Company to Work For in the UK Company Culture Awards 2022!
eduMe is a modern SaaS company helping companies such as Uber, Deliveroo and Gorillas to train and upskill their deskless workforces through our mobile learning platform. Our product is built around empowering deskless workers to perform at their best by providing training that is flexible, easily accessible and designed to support theirneeds. This is a vision which we consciously incorporate into our own culture, and strive to replicate wherever possible.
We're genuinely a people-first company – and this isn't just something we pay lip service to, it's at the heart of our company culture. We value the people who make up eduMe, because it wouldn't be eduMe without them, and our People team are committed to creating an environment that empowers our people to be their best working selves and cultivating a space where people can see, and take pride in, their ideas coming to life.
Here are the values at the core of what we do at eduMe, and how we embody them from the top down:
Work is what we do, not where we go
We provide all of our employees with the freedom, equipment, trust and support they need to be their best working selves, whether they're doing it at home, remotely, or in the office. New starters are provided with a generous WFH budget to set up their perfect home working setup, and our 'work from anywhere' policy gives our team the chance to explore the world while they work.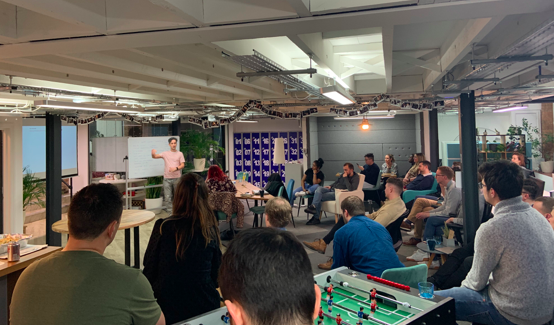 Truly flexible working
eduMe believes that flexibility isn't just about where you work, but how. It's why we encourage our employees to find a rhythm that works for them, whether that means going to the gym during their lunch break or starting work after they've dropped the kids off at school. Removing the constraints of set working hours and trusting our team to get the job done enables them to work intuitively and maximize productivity, while making time for what matters most to them.
Healthy work/life balance
There's no one-size-fits-all when it comes to wellbeing, which is why we offer our employees a monthly wellbeing allowance via Juno. Whether it's a yoga class, flexible childcare or free counselling, our team is able to choose wellbeing perks that matter to them as individuals. We also offer an enhanced parental leave policy which allows parents to spend valuable time with their new addition to the family, and provide 24/7 access to mental health support via Spill, a service which connects employees with trained therapists and instant resources.
Transparency is key
We hold weekly, company-wide huddles in which every team shares what they're working on and gets the chance to provide updates, as well as quarterly summits where we work together to find creative solutions to real life challenges within the company. eduMe is a collaborative environment which allows its team members to get valuable, cross-discipline feedback and share individual expertise and experiences in an open forum.
We empower everyone
eduMe believes in a free flow of information, as it makes us a stronger unit. We don't resort to internal politics – all knowledge and expertise is shared extensively, elevating us as a team and as a company. We're transparent in our efforts to become a thriving, diverse and inclusive place to work, and our generous maternity and paternity leave policies also guarantee that new parents are never unfairly penalized.
We already feel like we've won by working at eduMe, but winning this award – recognising our team who work tirelessly to create such a supportive and inclusive working environment – would be the icing on the cake!
To find out more about what we do and browse our current vacancies, head to edume.com/about-us