Scriba PR continues growth trajectory following Company Culture award win
Katie Mallinson, managing director of Scriba PR, scooped the Silver Leadership Award at the inaugural Company Culture Awards in 2021.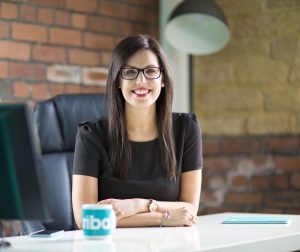 Having decided – on the flip of a coin – to set-up her own B2B public relations firm in 2013, Katie's one-woman vision has since grown into a 13-strong team of communicators who get under the skin and tell the stories of some of the most technical organisations, on a global scale.
Whether the engineering, recycling, demolition, manufacturing or tech sectors, Scriba PR thrives on simplifying challenging PR briefs from niche sectors – in fact, the more complex, the better!
And since the Company Culture Leadership award win in April 2021, Katie and her team have gone from strength to strength – retaining clients, securing new PR accounts, recruiting, and maintaining a two-in-three new business conversion rate.
"We've entered an exciting stage of Scriba's evolution. Our team has a stronger, technical and strategic skillset and we're able to offer clients even more specialist word-based services, which often sees us become a 'bolt on' comms department," said Katie, a former Chartered Institute of Public Relations' Outstanding Young Communicator and HSBC Start-up of the Year winner.
"Our reputation for handling complex briefs has attracted ambitious clients who want to truly disrupt their industries and expand on a global scale, at pace. We're now managing bold communication projects for industry-leading organisations who are pioneers in their field and based all over the world – from Australia to the US."
However, that could've been a different story when the pandemic hit in 2020. Two weeks after the first UK lockdown was enforced, £284,500 of Scriba's retainer work was paused.
Accustomed to navigating 'black swan' crises over the years – in particular when Katie broke her back in 2018 just eight weeks after giving birth to her first child – Scriba rallied in response.
Thanks to Katie's encouragement and positive leadership, colleagues were supported throughout with virtual meetings and quarterly away days, breakfast clubs, days off for birthdays and work anniversary gifts, business coaching sessions, social events, surprise treats in the post, Employee of the Month awards, flexible working hours and paid time-off to volunteer for worthy causes.
Learning remained key despite the uncertain economic climate too. Katie continued to commit 14% of company turnover to upskilling and ensured individual and end-of-year reviews took place, and were followed through, to further help colleague development. And, as well as no employee ever being placed on furlough, Scriba recouped the cashflow deficit from March 2020 and even recorded a profit!
"We've always had a culture of being honest and open, and that continued during Covid. Nobody's experience of the pandemic has been the same and we've each had our challenges, so supporting one another, no matter how tricky the situation, has been vital," added Katie.
"While the Company Culture Award is an individual accolade, there's no question that the team has played a huge part in driving Scriba through the toughest of times. The resilience, empathy and agility shown, makes me incredibly proud."
Fast-forward to 2022, and the Yorkshire-headquartered business has started the year in fine style. Recently appointed as the comms partner for a multi-million-pound broadband provider, a disruptive accounting software firm and a decarbonised gas specialist, to name a few, Scriba is also undergoing a brand refresh and recruiting for an experienced B2B account manager and technical copywriter.
Plus, giving back remains part of the company culture. On the back of donating a £35,000 PR contract to the Yorkshire Children's Centre, providing comms workshops for young entrepreneurs and more, Scriba is currently focused on raising £8,000 for Grimm & Co – a creative charity that champions young writers.