First of all, the team at Articulate Marketing are overjoyed to have been nominated for the Best Mental health Awareness Initiative at this year's UK Company Culture awards.
Thank you for this honour!
Our mental health awareness initiative
In 20 years as a remote-working marketing agency we've built a culture centred on "eudaimonia", or "human flourishing", with a purpose to Inform, Connect and Inspire. We're a certified B Corp, Best for the World Honouree for Workers and Governance, and Investors in People's Small Employer of the Year 2022.
Our Chief Happiness Officer (a Positive Leadership Awards winner), along with a team, instigated a Mental Health Awareness allyship responding to stressors brough on by global crises. After signing the Mental Health at Work Commitment and updating our workplace policies, we began a programme of activities from a Week of Calm to mindfulness workshops, Time to Talk chats, #PinItForMentalHealth, and more. Plus, we trained up two Mental health First aiders and provided everyone with access to the BUPA Employee Assistance Programme, with access to a counsellor.
Throughout, we shared our personal stories, as well as helpful resources on relevant topics such as loneliness, and neurodiversity.
Our goals were to ensure work is a safe space; combat issues that impact mental health; reduce stigma and raise awareness. Mental health awareness isn't a tick-box exercise for us. It's embedded in everything we do. And we're just getting started.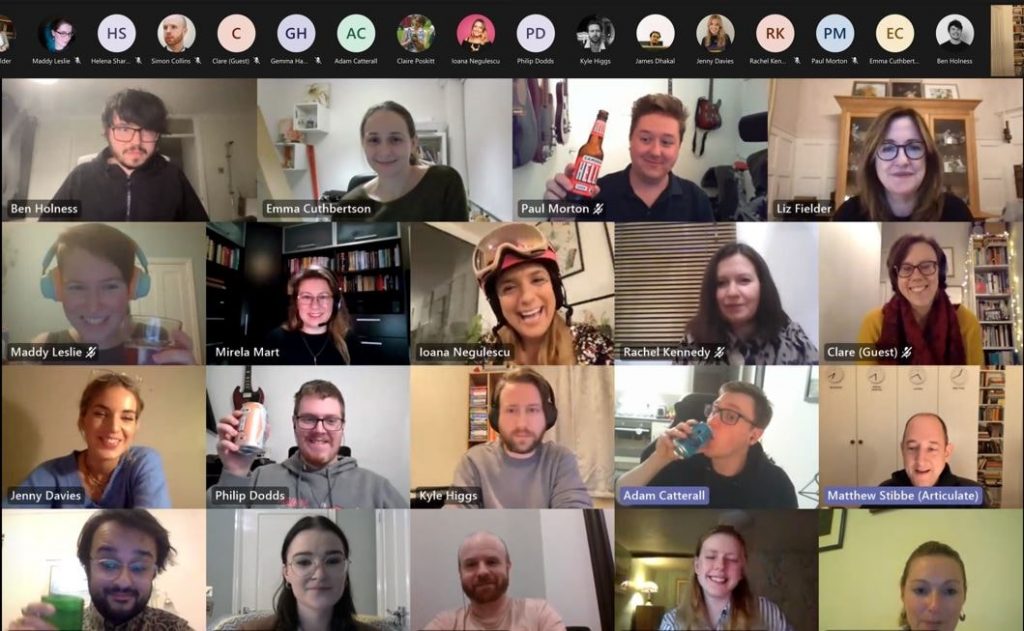 The team's response to the nomination news
Rachel, one of our talented writers had this to say about our work in this area:
'The happiness culture at Articulate positively impacts my own happiness and mental health. There's an openness around mental health issues that encourages us to admit when we're struggling, and all the social activities we can engage in allows us to pause, take a breath, and hit reset. Also, the focus on learning and development is amazing. It allows me grow in ways not possible in previous companies.'
And Juliet, our Head of People, also said:
'Knowing that the company is and always has been totally remote working is a massive benefit to my mental health and wellbeing. Following a serious illness, for many organisations, my need for home working would have made me feel different, just at a time when I didn't want to feel that.'
Upon learning about the good news regarding Articulate's nomination, she was quick to add:
'The culture at Articulate is so valuable to us – it is our heartbeat and embedded within our DNA. As such, it is always time well spent keeping it alive and well. We are so very proud and indeed, delighted, to receive this external validation and recognition. Thank you.'
'I'd like to pass on my heart-felt congratulation to everyone involved in the initiative, the stellar leadership shown by our People team, and to the company as a whole for being so open and engaged when it comes to mental health', said Articulate's CEO, Matthew Stibbe. 'This nomination validates our efforts, showing us that we're headed in the right direction and that we're doing good by our people. No business is perfect, but as we make tangible our commitment to mental health awareness, we're seeing better and better feedback from the team, which is wonderful.'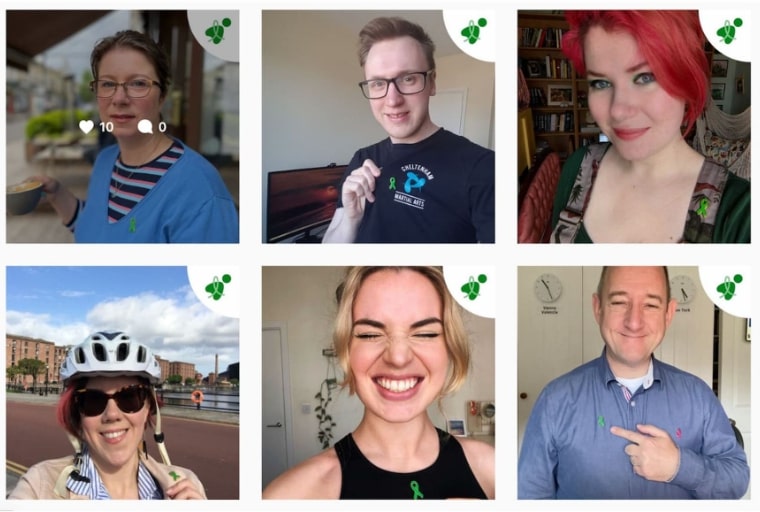 Thank you!
All in all, we're so pleased we put in the time and effort to apply, which was a collaborative effort by our Chief Happiness Officer, Liz, our Head of People, Juliet, and our Marketing Manager, Maddy. When we tell you our first draft was over 4000 words long… Suffice it to say, we're proud of what we've achieved so far, and we're keeping our fingers crossed for the award announcement next month. Thank you to the Company Culture awards, once again, for the nomination.

About Articulate Marketing
Founded in 2003 by Matthew Stibbe, Articulate Marketing has grown to a 20-person team, offering strategic, copywriting, and website services for B2B tech clients, such as Microsoft and Dell, as well as SMEs and mid-market tech, cloud service providers and SaaS companies. Plus, we're a B Corp, Investors in People certified, Real Living Wage, Climate Positive, HubSpot Diamond Partner and IIP Small Employer of the Year. Our mission is to build your 'Difference Engine'. Differentiation is at the heart of what we do. We believe every successful company has a difference engine. With it, you can stand out from the crowd, attract customers and be a thought leader.
Links
Check out Articulate's website and articles we've written about mental health awareness:
And follow Articulate Marketing on social media: