Founded in 1999, Bubble Agency provides a straight-talking approach to PR, marketing and event services. The team works with its clients to deliver tangible results through innovative ideas, constant communication and identifying and implementing the best strategy.
"What I like about Bubble is the team culture and ability to learn and grow. Celebrating individual wins is very motivational too." – Nikita Panchal, Senior Marketing Director
Core values connect the company's global team of 23 Bubbles and support a company culture that is centred on acting with TACT: Teamwork, Ambition, Consideration and Transparency.
Over the last year, the Bubble team has expanded, with 11 new staff members joining, including a Talent Manager focused on retaining and developing all employees and . ensuring the company culture is at the heart of everything the company does.
"We are so pleased to be shortlisted for The Best Agency to Work For Award. To be recognised for our commitment to staff development and wellbeing makes all the hard work worth it!" Sadie Groom, CEO
"As a team, we are so excited to be shortlisted, but it is no surprise to us, it's obvious that Bubble are set on making our company culture one of the best and ensuring we are all happy in what we do everyday" Maddy Grist, Junior Account Executive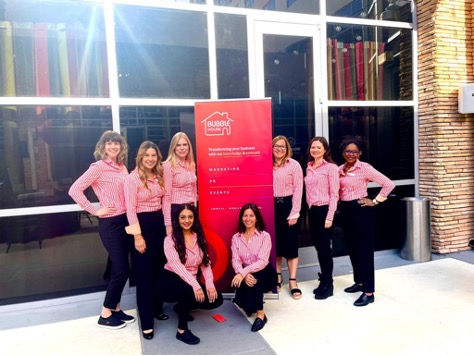 "Being shortlisted for this award signifies how hard our team works together to ensure our company culture is collaborative, transparent, and constantly improving. We are all very pleased for this to be recognised." Aline Mello, Senior Account Manager
The staff initiatives serve as a fantastic source of inspiration and motivation for all of us. They make us feel highly appreciated and valued." Shawn Belluigi, Account Director
Examples of the initiatives Bubble Agency have put in place that have led it being shortlisted for this award include:
An internal mentoring programme that nurtures younger Bubbles by being paired with a senior Bubble they don't usually work with. The pairs meet monthly to discuss challenges, concerns and ideas that may benefit from a different approach
Lumina Colour Chart – Bubble uses this tool to better understand our working personalities, improving how all employees work together and collaborate
WOW of the Month – celebrating individual achievements, this award is peer-nominated, recognising those who have gone above and beyond for their clients or Bubble
Annual bucket list draw to the value of £2,000 – this gives employees the opportunity to win a dream experience of their choice. It has aided staff retention and maintained high morale
Bubble have a dedication to truth and transparency in the workplace. CEO Sadie Groom's weekly team email, entitled 'Thanks Bubble It's Friday' shares business and team updates to provide transparency throughout all levels of the company
Many of these initiatives have come from listening to feedback from employee engagement surveys, highlighting the importance of having the platform to receive feedback to be able to get the right solution. One of the many reasons the staff retention rate is so high.
Bubble are honoured to be shortlisted for The Best (Small) Agency to Work For at the UK Company Culture Awards,  in such a competitive industry, Bubble goes that extra mile with its incentives and schemes, many of which get promoted across social media to let employees know how valued they are. That's why Bubble stands out.