Grayce are thrilled to have made the 2022 UK Company Culture Awards Shortlist! We are finalists for the 'Next Generation Initiative' and 'Best Inclusion & Diversity Initiative' awards. As an emerging talent management consultancy, we are immensely proud to be recognised for our work developing the next generation of leaders.
Who Grayce Are
Grayce was founded in 2012 with a belief in the value that emerging talent can bring to businesses. We aim to be the best fast-track developer of top graduate talent, enabling improved diversity of thought and delivery in digital transformation and change. 
Grayce works with organisations nationwide to help them build sustainable talent pipelines in change and transformation, data analysis and tech. We are on a mission to help organisations harness the power of graduate talent. We give our people a platform to realise their potential, focusing on continuous learning, building capability and living our values, so we can continue to develop the leaders of the future.

The UK Company Culture Awards celebrate companies who share values, care for and nurture their workforce, offer career development, reward good work and create a workplace environment that is beyond just an office space, even when remote. And that's exactly what we're all about at Grayce! We strive to create an inclusive, collaborative community where we support each other to succeed and give back to our chosen charities, and school and university students as part of our social mission.
Best Inclusion & Diversity Initiative – EveryOneEmpowered Reverse Mentoring Initiative
Grayce's Mentoring & Consultancy Development Initiative supports CSRN by supplying project coaches to student consulting teams who offer change services to charities across the world. Grayce Analysts, Lysette Wilks and Jake Hudson kickstarted this initiative with over 50 of our Analysts sharing their time and consulting expertise with students.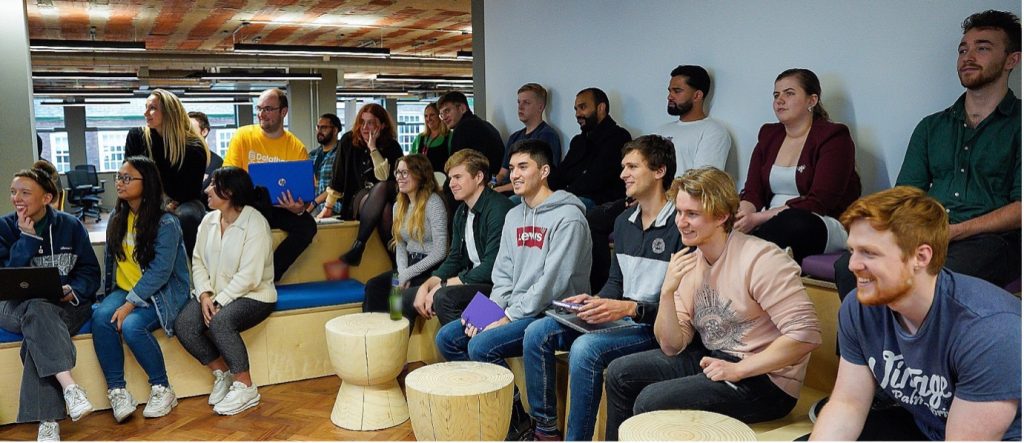 Next Generation Initiative – CSRN Mentoring & Consultancy Development Initiative
As part of our EDI initiative, EveryOneEmpowered, we launched a Reverse Mentoring scheme called 'Walk A Mile'. This sees junior colleagues take on the role of mentor, sharing their experiences and insights around equality, diversity and inclusion topics with our Leadership Team and Board Members. With almost 90% of mentees reporting that the scheme improved their knowledge of EDI issues, reverse mentoring has been hugely beneficial to Grayce's culture and ways of working. We're thrilled to now be rolling this scheme out to our clients to further the conversation around EDI at a cross-industry level.
We are thrilled to be shortlisted for these awards. Seeing our collaborative and engaged community be recognised in this way motivates us, even more, to make a positive impact by developing bright graduates into future leaders, whilst supporting EDI improvements and social mobility.
Find out more about Grayce at grayce.co.uk
Follow us on LinkedIn linkedin.com/company/grayce
Follow us on Instagram instagram.com/wearegrayce/
Subscribe to our YouTube channel youtube.com/c/wearegrayce